Unique content in your website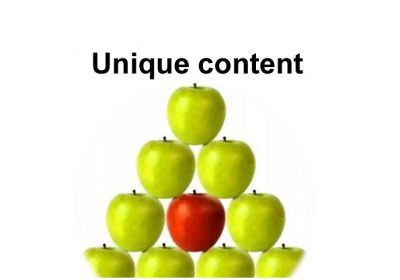 Your time invested in writing unique content for your website should be appreciated, especially by the user who reads it, by the search engines and by yourself, otherwise, there is no sense in wasting the time at all.
Unique content leads to higher ranking
When you do write unique content you'll notice that your website will start attracting greater links, they can be greater in quality or greater in number or both, benefiting your website with more traffic from users with some level of interest in what you got to offer in your website, achieving your goals that should be writing to be read by someone else.
When that someone else comes to your website, is looking to be entertained by the quality of a content that contains the answer to a question in their mind or pleasurable enough to keep them reading.
Your "niche" will be developed by the unique content that each of your web page. has to offer if that content is not unique, there is a chance that the user has seen it somewhere else. Users, as search engines like the uniqueness of web content in both form and nature. If you offer that then you are attracting unique visitors and you are succeeding at creating your niche.
Let us take care of your website!

As persons are unique, a website should also be unique, so that visitors recognize the website's personality, delivering understanding and confidence to the user, these feelings will help build the confidence that visitors need to call or write with an inquiry or purchase. Search engines are also seeking that understanding and confidence that what it is offered in the website is relevant to their users so that tey can deliver satisfaction to their users and have them return,
It is also important that visitors remember what they read and where they found that content so that they can come back or refer some other users, this is a fundamental in advertising, you want to create a unique character a unique personality for your website, so it can be identified, remembered and lead to users returning and referring.
Unique content in a website also delivers a sense of authority to the search engines, that when comparing to other web pages files on their database can't find many of the same. this authority can be translated into a higher page rank, then to more visitors with a real interest in what your website has to offer.
Writing relevant and unique content is time-consuming, some website owners chose to hire website maintenance services which offer a cheaper and effective alternative than writing oneself when the information flows properly.to the editor, but  unique content writing should be valued as a long term asset as it will continue to bring qualified visitors to the website.
A website that offers no unique content may be seen and considered second to another one, this can be translated in not real interest in the user, or cheaper deals or even losing not only the time but the clients, leading them to the first website where they found the first unique content that delivered the answers to their questions in the first place.
Take the time to write unique content or contact us to do it for you.