Small website optimization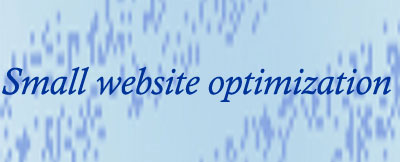 Small website optimization improves ranking to the first pages in the organic results of major search engines such as Google, Bing and Yahoo.
Website optimization is the correct edition of a website to rank well on search engines.
Small websites benefit from the lower cost of our search engine optimization (SEO) service while still been able to compete with large websites for the first positions in the organic results of the search engines.
With small website optimization, your website is called to the organic results when the user is already looking for the products or service offered by your website. The user is targeted by the unique content in the website plus keywords, tags and rank.
With our SEO service, the traffic of qualified users to your small website will grow steady
Call 416-262-7139 now for inquiries or order now.
---