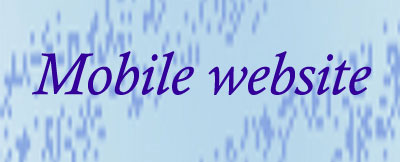 Internet search activity is now greater through mobile than through desktop devices, your website MUST be mobile optimized if you expect your website to be ranked in Google, which to the date delivers over 80% of the results to the daily searches.
A mobile friendly website helps your organization to improve your website ranking, increase business sales, and increase your presence on the internet
Google has expanded mobile-friendliness as a ranking signal since April 21, 2015, As a result you should be taking measures to ensure that your site moves to being a responsive site, which means ensuring that the same HTML is being sent to all devices using CSS to alter the rendering of the page on the device.
Users have forced website owners to re-design their websites, their platforms, and their friendliness, here is why:
80% of Internet users own a smartphone (Source: Global Web Index)
56% of Americans have a smartphone and 34% of adults have a tablet device (Source: Pew Research 2013)
72% of consumers want mobile-friendly sites (Source: Google Research)
67% of consumers are willing to buy a product or use a service on a mobile-friendly site (Source: Google Research)
53% of mobile searches have local intent (Source: Mediative Labs 2012)
70% of mobile searches result in action being taken within an hour as opposed a week for desktop (Source: Mediative Labs 2012)
Total mobile engagement on social has grown 55% in the past year
73 percent of mobile searches trigger follow-up actions (SearchEngineLand)
61% of mobile searches result in a phone call
40% of searchers will click another mobile result if a site's not mobile friendly
Smartphone users have doubled in Canada between 2010 and 2014. (Source: Mediative)
British Columbia and Ontario have the highest smartphone usage in Canada at roughly 30% (Source: Mediative)
Mobile number of users are still increasing at an extremely rapid pace, keeping a non-mobile optimized website if you want to have more customers.
Call 416-262-7139 or order now
---
[storepage page='details' cid='60009′]